As our Malaysian currency weakens, we find ourselves complaining that a lot of goods have increased in price. Strawberry jam which used to cost RM8 is now RM12, teh ais which used to cost RM1.20 is now RM2.00 (not sure how tea prices are affected as we have our own plantation in Cameron Highlands!).
In a way, it's good that our currency weakens. We start getting creative in stretching our Ringgit. Weekly groceries which could perhaps get us 5 meals for two pax for RM50 has to be stretched to get us 8 meals by getting local veges, meat and such. We cut back on travelling overseas and try to go for staycations. Flights were always cheaper when travelling long distance but the hotel, food and tickets to local attractions usually kill us. So when we travel locally, we can have our meals at the local gerai and just enjoy the beach or hills or lakes without having to buy special tickets to enjoy the local culture.
I do sometimes wonder how it is to live overseas for perhaps a year or two. I've got some adventurous friends who pack up their bags and plonk themselves in exotic countries like Chile without even making sure there is a job waiting for them. They somehow happily survive!
I think it's cool to live overseas if it means having a job that doesn't feel like a job. You know, the type where you can enjoy just a few hours of work which involves getting to know the locals and doing something creative or giving back to society while getting paid to cover your living expenses.
Who wants to live overseas when it means shuttling back and forth from the home to the office and back?
The U.S. dollar rules right now, so for the time being the world is on sale for Americans, not quite as cheap for Canadians and Europeans.
In his blog,
Tim Leffel
lists the Cheapest Places to Live in The World in 2016. He even mentions Malaysia! Read the rest of his post below
Nepal
Photo Credit:snowleopardtrack.com
Nepal is probably the hands-down winner in terms of what you get for your money. If you were set up with $1,200 a month coming in there—the equivalent of one Social Security check—you'd be part of the wealthy elite. You could live on half that and still be eating well. Getting residency is quite tough though, so most people just do short stints in the country unless they've got a work visa or they've set up some kind of charity. Oh, and the electricity and internet both go out on a daily basis.
India
Photo credit: Forbes.com
Parts of India are a great bargain as well, though you wouldn't know you're in a bargain country if you get transferred to Mumbai or Bangalore for a job. There's a lot of money and investment in those cities and plenty of millionaires milling about. Instead look to the smaller cities and Himalayan mountain towns where it's not unusual to find a house to rent for a couple hundred dollars and restaurant meals for what you spend on a soda in your home country. There are thousands of expatriates and travelers taking a pause that are easily getting by for $600 a month total here, or spending twice that and living the high life.
The visa situation in India is both good and bad. If you're only planning to stay for six months, great. You get that long automatically if you want when applying and the process has gotten a tad faster in recent years. There is no such thing as a retirement visa here for people with no Indian blood. In theory Americans can get a 5-year multiple entry visa, but you can only stay 180 days at a time before needing to leave for at least two months before returning. You need to pick up and get moving on a six month/two month cycle to infinity. Australians can get a multi-year tourist visa, UK citizens up to five years (but only 180 days in a stretch), Canadians generally get up to 180 days. The clock starts ticking when the visa is issued, not when you arrive.
Indonesia
Sulawesi - Main housez for Toraja people (upside down boat)
Indonesia is kind of a mixed bag as well, with prices in Bali up by a factor of five or six from when I first started writing about the place, mostly due to a massive influx of tourists and woo-woo expats following the Eat, Pray, Love spell. Once you get off that island though, prices drop substantially. If you settle down in a place that's not jammed with tourists, say on Sumatra or Sulawesi, this is another country where you can easily live a nice life on $1,000 a month or less. There's just one big problem: it's tough to get a visa to live here long-term unless you're working for a company that's giving you a work visa, if you have an Indonesian spouse, or you're over 55 and have a decent income.
You also can't own property and in much of the country the internet is far from fast if you want to run a business online. There are other strange quirks such as a minimum housing spend and a pledge to hire at least one domestic worker (though you probably would anyway at these prices). Locals have found some workarounds that keep them from having to fly to Singapore every two months, though they still have to leave the country every six months and go to an immigration office every two.
Colombia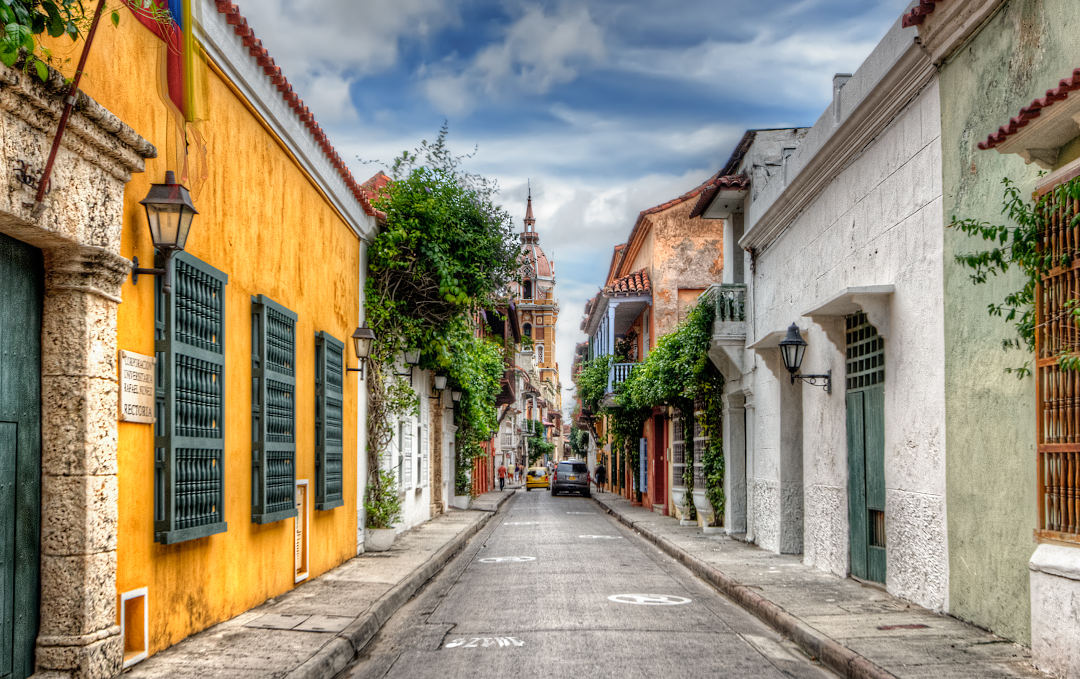 Photo credit: uptourist.com
The interest in Colombia as a place to live has been on an upward trajectory for years, but the fall in their currency against the dollar has turned a good value into a terrific bargain. Here's what one of my readers wrote recently as a comment: "I live in La Paz, Bolivia and have just been to Bogota for 4 day break – first time back for about 11 or 12 years. I was surprised at just how cheap it was , certainly cheaper than La Paz for the majority of things. Probably things like local produce are about the same, but for anything imported it was considerably cheaper, often up to 50% cheaper." The city of choice for most is Medellin (see this site for info and prices), with great weather year-round and a good food and nightlife scene. There are plenty of cheaper places to live around the country if you want something less hectic, but be advised that lovely Cartagena is no bargain. It's a favorite of tourists and domestic investors buying vacation homes, so while it's gotten more reasonable, it's an outlier.
The expats I interviewed for A Better Life for Half the Price were generally living on half what they did in the U.S., though that was when the peso was much stronger than it was now. You could easily get by for less now. Since the beginning of 2013, the dollar has gone from fetching 1,760 pesos to more than 3,000 pesos.
Argentina
Photo credit: andbeyond.com
I reported last year that it was a great time to land in Argentina with greenbacks in hand. "Combine a strong dollar with a local financial mess and you get a great climate for someone entering with foreign currency." At that point the official exchange rate was 8.6 to the dollar and the real one on the street was 13. Now the official rate is 9.69 and the "blue rate" has passed 15.
Combine that with bargain-priced good wine, almost-free health care, and reasonable housing costs and it starts looking like expat heaven. The ability to stay almost indefinitely on a tourist visa is a big plus too. Just cross to Uruguay or Chile every three months and take a short vacation or return immediately. The expatriates I interviewed here are living on far less than half of what they spent before, especially those who made a lateral move from New York City to Buenos Aires. Naturally if you get into smaller towns, prices drop dramatically.
Mexico
Photo credit: transitionsabroad.com
I've spent three of the past five years living in Mexico and it is cheaper there now than when I first visited in 2002. The most common exchange rate over the years has been 13 to the dollar. Over the past couple years the peso has been dropping though and it's now around 17 to the dollar. This makes our closest neighbor to the south a screaming bargain anytime you go to a restaurant, buy a beer, take a taxi, or hire a carpenter. My family of three averaged $2,300 a month in expenses all in while in Guanajuato, paying all medical costs out of pocket, having a maid two times a week, having a handyman come almost weekly to do improvements/repairs, and traveling a lot within the country. We weren't very frugal at that level either because we didn't need to be. We could eat out constantly, go to cultural events, and enjoy life to the fullest. It's cheaper now than when I wrote this Guanajuato post. Our maid is one of the best-paid in town and she gets $4 an hour.
You can stay 180 days on a tourist visa in Mexico, then get another 180 just by leaving and coming back. If you can show a good enough income, the residency process is straightforward if you want to stick around or put your kids in school. You can usually find a round-trip flight priced just a tad above a domestic one and it's easy to get by without a car.
Portugal
If you want first-world amenities and infrastructure, tap water you can drink, and pleasant weather, it's hard to top Portugal. This is the cheapest country in Western Europe at any time, but the continuous fall in the euro, combined with a lingering debt crisis, means Portugal's low costs have gotten even lower. It's hard to imagine that you could move from the U.S. or Canada to Europe and actually spend half of what you're spending now on living expenses, but here it's possible. Lisbon is more expensive than the rest of course, so the "half price" part only works there if you're moving from a big city, but it's blissfully cheap once you get outside of the capital and even there it's a bargain by European city standards.
It's much easier to get residency as a EU citizen than from elsewhere, so there are more Brits living in Portugal than other nationalities. Still, with enough patience and some money to pay a lawyer, it's possible for other nationalities to get long-term residency. See this post for more on the cost of living in Portugal.
Bulgaria
Photo credit: reidsguides.com
While the nation above is the cheapest in the western part of the continent, half that again if you head east to the cheapest place to live in Europe period—Bulgaria. This is the kind of country where you can find a house for sale on eBay that's cheaper than what you paid for your last car. It's the land of large dollar beers, 4-euro bottles of decent wine, and 10-euro monthly mobile phone bills. The average salary here is less than 500 euros a month, so if you've got $1,200 a month coming in, you're twice as wealthy as the average.
Keep in mind you get the full four-season effect here, which means it's not a place to live year-round if you hate the cold. In the summer you've got the Black Sea beaches though and you can eat really well here with all the fresh produce and yogurt. As with Portugal, EU citizens have no visa issues but we North Americans do. A stay is limited to 90 days unless you apply for a residency visa before leaving your country and then finish up the paperwork after arrival locally.
Other Temporary Opportunities
The currency in
Malaysia
has dropped by a third against the U.S. dollar the past few years, making Southeast Asia's easiest country an even better value. If you're a retiree, getting residency here is straightforward if you're willing to invest in property.
The expat favorite of
Thailand
keeps seeing an inflow of residents and tourists despite frequent political blow-ups and a baffling visa policy that causes tens of thousands of people to do border runs every two months. The currency ranges between 30 and 35 to the dollar and right now it's around 35, making rent, street food, and transportation a better deal than before. The government recently introduced a six-month multiple-entry visa, which will make things a little easier. You can still only stay 60 days at a time, but you know you'll be able to get back in with no issues each time.
Photo credit: Captainkimo.com



So where in the world would you like to live for a year or two? Leave your comments below!